For our first Model, we look to the Four-Step Jericho Plan. 
We draw together as One Nation Under God, combining the distinct but complementary roles of the government, the church, and "We the People" to confront and defeat those who seek to destroy the great pillars of religion and morality on which America was founded and has prospered for 400 years.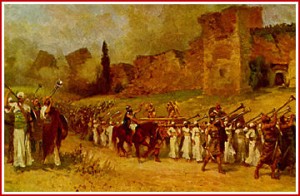 Like Joshua, we too must:

1.  Follow God's direction to march around the strongholds of evil around us;
2.  Are led by our valiant soldiers and civic leaders;
3.  Are guided and encouraged by the pastors and priests in the center of the march carrying the ark of the covenant and blowing their priestly trumpets; and
4.  Shout together as "We the People" until the walls come tumbling down.