Time for "A New Christian Awakening in America"!
________________________________________________________________
The Invitation:  "A Celebration of God and Country"
Reservations are still available for full table and/or individual seating at our 16th annual "Salute to the Family" dinner which will be held at 6:30 p.m., Friday, May 19, in the JMU Festival Conference and Student Center.
Therefore, if you have not already done so, please confirm your reservations as soon as possible.  See details below.
Featuring Bishop E.W. Jackson!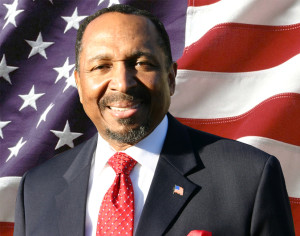 Our theme again this year is "A Celebration of God & Country", and we are delighted to welcome back Bishop E.W. Jackson as our keynote speaker and close friend of the Forum.
His story is unique.  As a foster child during his early years, a failure in school, and bound for a life of street crime, his father came back into his life and helped turn him around.
Bishop Jackson is a Marine Corps veteran, Harvard Law School graduate, founder and pastor of a non-denominational church in Chesapeake, and founder/president of S.T.A.N.D. (Staying True to America's National Destiny).
Many of us remember the first time we heard him speak. It was his electrifying presentation at our 2011 dinner where he was greeted with repeated standing ovations.
He followed that up with frequent visits to the Valley as a candidate for the U.S. Senate in 2012, and then again in 2013 in his run for Lt. Governor of Virginia when he won 70% of the vote in Rockingham and Augusta Counties.
Since then, his passion for God and Country has taken him across America as a powerful voice for our Judeo-Christian heritage; our Constitutional principles; our God-ordained rights of Life, Liberty, and the Pursuit of Happiness; and now for "A New Christian Awakening" in America.
Bishop Jackson is also a frequent guest on national media as well as on the Forum's weekly radio and TV programs.  In recognition of his bold S.T.A.N.D. stand for Truth without fear of favor, the Forum presented him with the Daniel Award at our 2014 dinner Celebration.
Food, Fellowship, Music, Awards – and Much More!
In addition, Southern Hospitality is returning with an inspiring medley of southern gospel and patriotic selections, Miriam Clark will provide our dinner music, "Red Skelton" will return with his a comedic homily on the Pledge of Allegiance, a Trail Life USA Troop will post the colors, and yes, there will be another surprise presentation of our annual awards.
To cap it all off, we are extending a special welcome to all military, law enforcement, and first responder personnel – both active duty and retired.   We want to honor them for their service.
Therefore, please invite everyone you know who has served or is currently serving in any of those capacities and encourage them to attend.  They deserve our appreciation and recognition.
It will be a great evening, and you will be encouraged, inspired, and challenged – all over again!
Table and Individual Reservations
Seats are filling up fast but reservations are still available at $200 for a table of eight or for individual seats at $25/person.
To confirm all reservations, simply reply by return e-mail or call us at (540) 438­-8966.  Once confirmed, you can send your check to the Valley Family Forum at 3465 Izaak Walton Dr., Harrisonburg, 22801.
For God and Country!
Dean