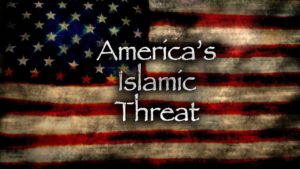 We Must Never Forget!
This weekend we are re-airing Part II of a program that we recorded at the Court Square Theater in Harrisonburg six years ago on the 10th anniversary of the tragic attack on the Twin Towers and on the Pentagon, and then the crash of Flt. 93 in Pennsylvania.
That is because we must never forget the 3,000 innocent victims of those attacks or the pain and suffering that their families still endure – and also because the battle continues, taking more and more lives each day.
Who They Are
Last week we featured Michael Del Rosso in Part I of Shariah:  The Islamic Threat to America.  In that program, Del Rosso focused on three questions:  1) Who is our enemy, 2) What is their doctrine, and 3) What is their objective?
He reviewed the Islamic doctrine and Shariah law that drives Islamic adherents to kill innocent people – just as ISIS is doing in Iraq and Syria today.  He also explained the deceptive portrayal of Islam as a "House of Peace" — a "peace" that is achievable only by "submitting" to Muslim authority.  Or as ISIS puts it more bluntly:  "Convert or Die!"
Del Rosso draws his conclusions directly from the Koran and other authoritative Islamic manuscripts, noting that the violent Medina passages of the Koran have "abrogated" the more peaceful passages from the earlier Mecca period.
What They Do – in America
He also exposed Islamic organizations like the Muslim Brotherhood that operate in the United States to subvert American values, undermine our Constitution, and promote global domination through both violent and non-violent jihad.
In Part II this week, Del Rosso blasts the Obama administration for refusing to acknowledge and confront the threat that a network of Islamic groups pose to American security.  Instead, they change the terminology to avoid fingering Islam and Shariah as the threat.
He also unmasks the role that Islamic Centers and community mosques like the one in Charlottesville play in advancing the Muslim Brotherhood's plan for global domination – including America.
Michael Del Rosso is a Research Fellow at the Claremont Institute and a Senior Fellow at the Center for Security Policy in Washington, DC.  He is also co-author of Shariah: The Threat to America, which is available in paperback at www.amazon.com.
*   *   *   *
Valley Faith in Action airs five times on WAZT-TV, beginning at 8:00 p.m. Friday and Saturday, again at 7:00 a.m. and 8:30 p.m. Sunday, and finally at Wednesday midnight.  That is on Comcast Cable Channel 13 in the central Shenandoah Valley area but varies in other locations — including on WIAV-TV at 8:00 p.m. Friday in Washington DC.
However, you can also watch it online HERE anytime.  And, in case you missed it last week, you can watch Part I HERE.
We value your prayers and your support, so if you would like to help with a tax-deductible gift, you can do so by check to the Valley Family Forum at 3465 Izaak Walton Dr., Harrisonburg, 22801.
For God and Country!
Dean