WBTX Radio  —  SONshine Ministries  —  Share-a-thon
Newsflash:
Join me on WBTX from 9-10 AM Tomorrow
Plus:  Crossroads Program Update for October
__________________________________________________________________
WBTX Annual Share-a-thon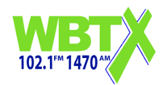 I have been asked to join WBTX radio tomorrow morning from 9:00 to 10:00 as part of its annual SONshine Ministries Share-a-thon, and I hope you can be a part of our listening audience. We will be talking about the continued importance of local Christian radio in the Valley and our part in it.
SONshine is a local non-profit organization that purchases time on the radio station for Christian programs and music. This includes the two weekly releases of our program entitled "Crossroads:  Where Faith and Culture Meet", which airs on Saturday at 4:00 PM and on Sunday at 7:30 AM.
We are deeply grateful for the support of WBTX in airing these broadcasts.  Its reach extends across the central Shenandoah Valley and also includes Southern Gospel Music and select teaching programs, 24/7. It can be heard at 1470 AM, 102.1 FM, or anywhere worldwide with internet service at www.WBTXradio.com.
Crossroads Program Update for October on WBTX
For our faithful listeners on WBTX, attached below is the Crossroads Schedule for the month of October leading up to the mid-term elections on Tuesday, Nov. 6.
1. Oct. 6-7:      The "Me Too" Movement, Its Pros and Cons
2. Oct. 13-14:  The Enemies Within, Chipping Away at Our Judeo-Christian Values and Principles
3. Oct. 20-21:  The Tale of Two Contrasting Platforms, Republican and Democrat
4: Oct. 27-28:  The Nov. 6 Vote, and Why It Matters
As always, thank you for joining us in this call — for God and Country,
Dean